Pearl Earrings & Pearl Drop Earrings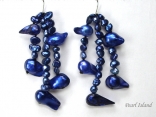 Freshwater Pearl Earrings come in a wide variety of shapes, sizes, styles, and colours, and at Pearl Island we have a fantastic selection of freshwater pearl earrings with prices starting at just £12.99.
All pearl jewellery has fascinated and bewitched people for centuries, but pearl earrings have always had a special place in peoples hearts, with even famous artists like Vermeer drawing attention to them and making them the focal point of his masterpiece "Girl With a Pearl Earring" painted in c.1665, and of course there is the famous portrait of Marie Antoinette, the Queen of France wearing pearl earrings and a pearl necklace.
So as you can see, pearl jewellery and in particular pearl earrings have long been revered as important status symbols, and as the fashionable and stylish accoutrements of the rich, beautiful, and famous – when you buy pearl jewellery you will certainly be in good company!
Whether you prefer the traditional "stud" earring, with a single pearl, or you'd prefer pearl drop earrings with one or more pearls, we have a great choice in an array of colours including lavender, peach, pink, white, black, grey, and many others.
We also stock cluster pearl earrings, "dragons tooth" Biwa pearl earrings, Art Deco style coin and Keshi pearl earrings, baroque pearl earrings, and many others.
Whether you are buying for yourself or as a gift for someone special to you, please take your time to browse through our extensive selection of earrings.
All of our pearl earrings come with a free jewellery bag or presentation box.