Pearl Cufflinks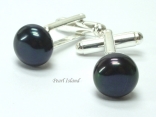 Pearl cufflinks have been an especially popular form of mens pearl jewellery for well over a century, with the pearl cufflink having originally served as an indicator of a man's wealth, importance, and standing within his social circles.
In these earlier days pearls were not available to anyone other than the landed gentry and very wealthy, indeed pearl jewellery was once the most expensive form of jewellery in the world, and so it is not surprising that pearls found their bewitching lustre being utilised by men to display their affluence to others.
Today pearls are much more abundant and much more affordable than they once were, but while this is the case pearls have not lost their appeal, appreciation, or status, and they still convey the same qualities of style, sophistication, and elegance that they always have.
There is something about the iridescent lustre of a pearl that catches the eye and captivates the attention, and so pearl cufflinks and other types of pearl jewellery are still as popular today as they ever were, perhaps even more popular because of their availability and price.
At Pearl Island we have both black pearl cufflinks and white pearl cufflinks in stock, and it will probably surprise you to know that prices start at just £27!
Besides our freshwater pearl cufflinks we also have a comprehensive range of mother of pearl cufflinks starting at just £22.
Both the pearl and mother of pearl versions come with a free presentation box.
Showing 1 to 4 of 4 (1 Pages)