Pearl Bracelets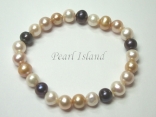 Freshwater Pearl Bracelets – Find the Perfect Pearl Bracelet for Any Occasion
A Pearl Bracelet is one of the most fashionable and attractive pieces of pearl jewellery, and with a multitude of different styles it's possible to find something for every taste and every occasion.
Many people don't realise it, but today you can buy pearls and mother of pearl bracelets in a wide variety of colours besides the traditional black or white variety.
At Pearl Island for example we have pearl bracelets and mother of pearl bracelets available in lavender, peach, grey, pink, gold, and even blue, and in terms of style there is a huge choice from traditional single row pearl bracelets, to bridal pearl bracelets, art deco style bracelets, and the popular "dragons tooth" bracelets.
There's also a great selection of pearl types, from the standard freshwater pearls, to Biwa pearls, through to the very distinctive baroque pearls.
All of our pearl bracelets come with a free jewellery bag or presentation box, and with prices from just £15 it's difficult to find something that you don't like!