Pearl Studs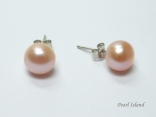 Pearl studs or Pearl Stud Earrings are a very fashionable and traditional form of pearl earring.
At Pearl Island we have a great selection with many different styles and types of pearl, and with a choice of colours which include white, black, lavender, peach, grey, red, copper, and many more.
All of our pearl studs or pearl stud earrings are genuine freshwater pearls, and come with a free jewellery bag or presentation box, and prices start from just £8.99!
We also have a great selection of pearl drop earrings, cluster earrings, and many other styles of pearl earring.