Pearl Necklaces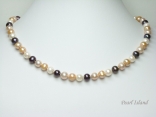 Freshwater Pearl Necklaces – Find the Perfect Pearl Necklace for Any Occasion
The pearl necklace is one of the most iconic and instantly recognisable types of pearl jewellery representing quality, beauty, and charm.
In the past pearl jewellery was the most expensive jewellery in the world, and so it is not surprising that pearl necklaces are seen in the portraits of the rich, famous, and beautiful of their time, like for example in the famous portrait of Marie Antoinette, the Queen of France.
Fortunately today pearls are much more abundant than in the past and so are more affordable to us all, at Pearl Island our freshwater pearl necklaces come in a huge selection of styles, colours, and prices, starting at only £17, and with a free jewellery bag or presentation box!
Our range includes single strands of freshwater pearls with round, oval, and baroque pearls to name a few.
We also stock multiple strand pearl necklaces, alternating colours of pearls, "dragons tooth" necklaces, coin pearls, and spiral pearl necklaces among others.
Your pearl necklace doesn't just have to be in the traditional style either, there are Art Deco styles, and very modern designs utilising the vast array of shapes, sizes, and colours of modern pearls, and even long pearl necklaces evocative of the 1920's (think of the "flappers" as they were known dancing the Charleston) .
Whatever you're looking for, whether it's something formal, casual, for a wedding, or as a gift, we are certain to have a pearl necklace that will fit the occasion perfectly.