Mens Pearl Jewellery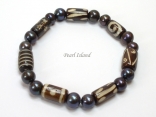 Mens Pearl Jewellery – Pearl jewellery might be something that you wouldn't immediately associate with men, you might rather think of ladies pearl necklaces, bracelets, and earrings, but pearls have been used for a very long time in jewellery made for men, and it is becoming popular again today with for example more modern styles of bracelets becoming fashionable.
Of course the immediate thing that springs to mind when you think of mens pearl jewellery would be pearl cufflinks or maybe mother of pearl cufflinks, and at Pearl Island we do indeed have a great selection of cufflinks in a wide range of styles.
The more modern mens styles include both necklaces and bracelets made with blister pearls, baroque pearls, or round pearls, and interspersed with Batik tubes or beads to form a very fashionable way for men to wear pearls.
We also stock pearl pendants for men, all of our mens jewellery represent an unusual and thoughtful gift that is sure to be treasured.
Prices for our mens pearl jewellery start at under £18 and come with a free jewellery bag or presentation box.
Showing 1 to 13 of 13 (1 Pages)