Bridal Pearl Jewellery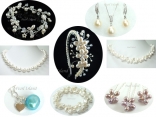 Pearl Bridal Jewellery and Wedding Jewellery
Pearl wedding jewellery has been very popular for a very long time, it is after all an obvious choice with the magical lustre of white or ivory pearls being an ideal partner to the traditional white or ivory coloured wedding dress.
At Pearl Island we have a great selection of pearl bridal jewellery and pearl wedding jewellery, with something that will complement your wedding dress and bridesmaids dresses perfectly.
Our pearl bridal jewellery is available in more than the tradition two colours mentioned previously, we also stock in pink and grey, and with red or yellow pearls as well.
In terms of the types of pearl wedding jewellery that we stock, we have pearl necklaces, bracelets, earrings, and pendants, and have selections made from round pearls, Keshi pearls, baroque pearls, oval pearls, Biwa pearls, and coin pearls, so you can see that there is quite a choice.
It can be very difficult to find jewellery that will exactly match your style of wedding dress, which is why we offer a large selection in traditional and more modern styles.
All of our pearl wedding jewellery comes with a free presentation box or jewellery bag, and can be gift wrapped with a personalised message if you desire.