Long Pearl Necklace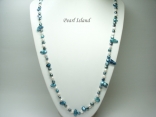 The image that first comes to my mind when I think of a long freshwater pearl necklace is those girls in the 1920's (flappers I think they were called) dancing away to the Charleston with their long necklaces swinging away around their necks.
While we do have long pearl necklaces that fit this picture perfectly, we also stock a large choice of other kinds of long pearl necklace in much more modern styles, like our baroque and oval pearl necklaces, bridal pearl necklaces, and rope necklaces in green, pink, turquoise, or blue to name but a few colours.
Our long pearl necklaces start from just £32 and come with a presentation box or jewellery bag.