Mother of Pearl Cufflinks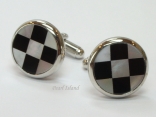 Mother of Pearl Cufflinks – Mother of pearl is first recorded in jewellery over 5000 years ago in Egypt, its desirability and appreciation has grown immeasurably since those ancient beginnings.
Being ideally suited to use in jewellery, mother of pearl displays all of the iridescent, lustrous qualities of the pearls themselves, and allows the artisan to produce eye catching, stunning items that are also extremely affordable.
Our mother of pearl cufflinks capture these qualities to provide you with a stylish selection that has something suitable for any occasion, with a choice of square, rectangular, oval or round cufflinks, and a diverse range of colours, with black and white, green, and pink being especially popular.
Whether you're looking for a gift for someone else, or for yourself, take your time to browse through our mother of pearl cufflink selection and remember that we also stock pearl cufflinks as well if you'd prefer.
Our Mother of Pearl Cufflinks are just £22 and come with a free presentation box.
Showing 1 to 2 of 2 (1 Pages)